Professional Training, Exclusive Resources and More
Learn Ag Tech is your home to learn precision ag technology. Stream professional training from leading agricultural technicians and download exclusive resources.
Get Access
Unlimited Access to Ag Technology Training
Featured
Guidance
Harvest
LandLeveling
Planting
Implementing Precision Ag Technology Allows You to Increase Yields and Decrease Input Costs
But There's a Growing Frustration:
Random YouTube Videos Aren't Working
Don't Have Time to Read the Manual
Takes Too Much Time to Train New Employees
Tired of Calling Technicians
Not Tech Savvy Enough / Information Overload
No One Has Helped with Training
Learn Ag Tech has everything you need to develop yourself and your team all in one place. And for a fraction of the cost of repeated calls to technicians.
"Simply the most powerful ag technology learning system anywhere!"
- Brent Davis / Vantage Southeast
Your Learn Ag Tech
Subscription Includes:
Access to ALL Courses
Access to Download Workbooks
Access to Grower Discussions
Get Access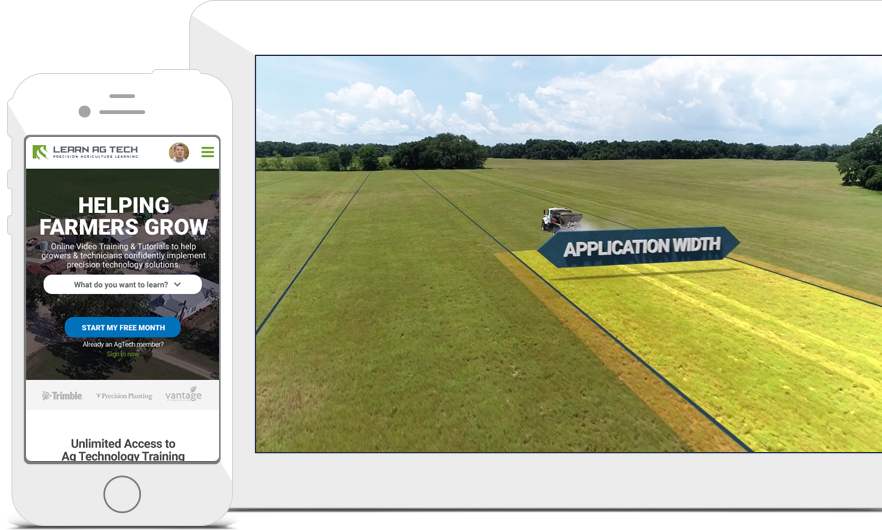 Frequently Asked Questions

$4900
Per Month (Billed Annually)
Stream All Learn Ag Tech Professional Training

Learn From Industry Experts

Member Exclusive Downloads

New Content Added Each Month
Learn Anywhere at Any Time with Learn AgTech
We know that it is hard to slow down long enough to get up to speed on the ins and outs of all of the latest technology available for your farming operation. Now, you don't have to! We go where you go—whether that's in the cab of your tractor, out walking your fields, or training a new hire. Now you can access Learn AgTech from anywhere and get the expert guidance you need when you need it. Sign up today and receive unlimited access to our series of courses designed to help you speed up your workflow, make better decisions, and generate a bigger yield.
Get Access
Leaders We Help Grow

When it comes to understanding the technology we have on the displays in our tractors, Learn Ag Tech is something we'll never be without. Each season, we're able to efficiently go through all our operations with the help of video training in our pocket! Great resource for all farmers to have."

Gary Henderson
Classic Caladiums

"Simply the most powerful ag technology learning system anywhere!"

Brent Davis
Vantage Southeast